Eight Things to Know about Living the Lagoon Lifestyle at the Largest Lagoon in the Country
Angeline
Brightwater
Epperson
General
Lagoon
Lagoon Life
Mirada
Southshore Bay
Mirada, one of Metro Development Group's newest master-planned communities, is home to one of their largest amenities, a 15-acre human-made Lagoon.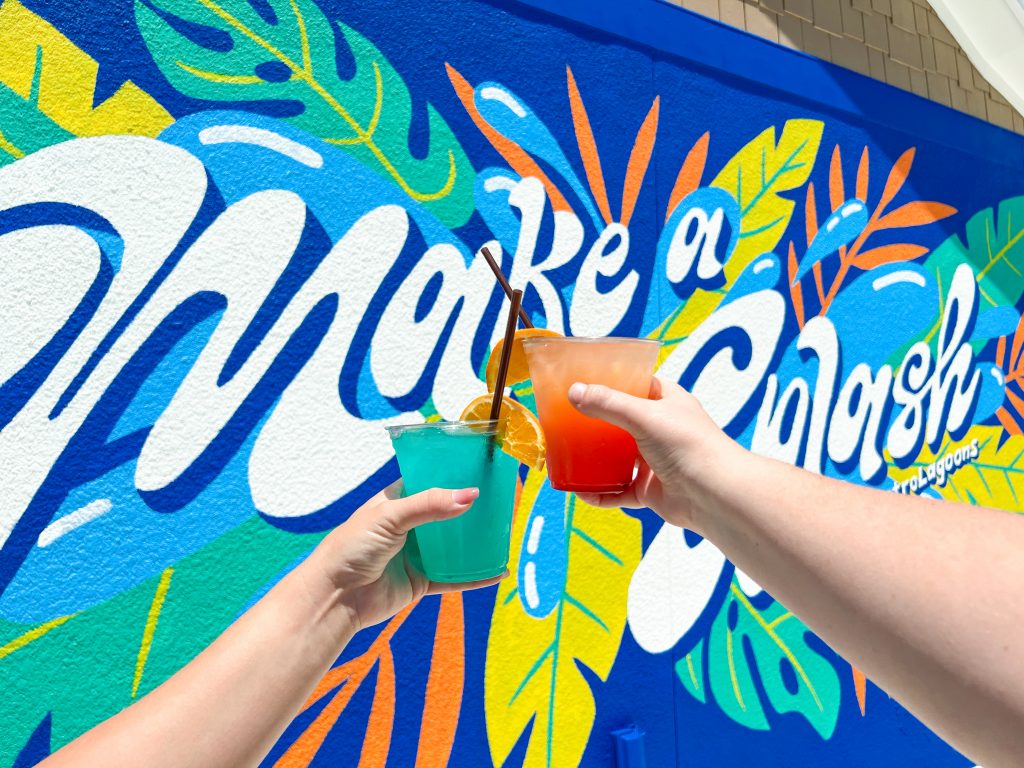 The Mirada Lagoon, the largest human-made lagoon in the U.S., spans 15 acres of land, the size of 11 football fields.
But the Lagoon, in the heart of the Pasco County, FL master-planned community neighborhood of Mirada, is much more than just a place with wide expanses of crystal-clear water. The Lagoon has unique resort-style amenities both in the water and on the shore that turn your day into a staycation to remember.
Here are eight things you need to know about the largest Lagoon in the country.
It's Massive
This 15-acre resort-style Lagoon is the largest human-made lagoon in the country and took years to plan and build. To give you an idea of the scope of the project, the Lagoon uses over 8,600 tons of beach sand and took 45 days to fill with nearly 33 million gallons of water.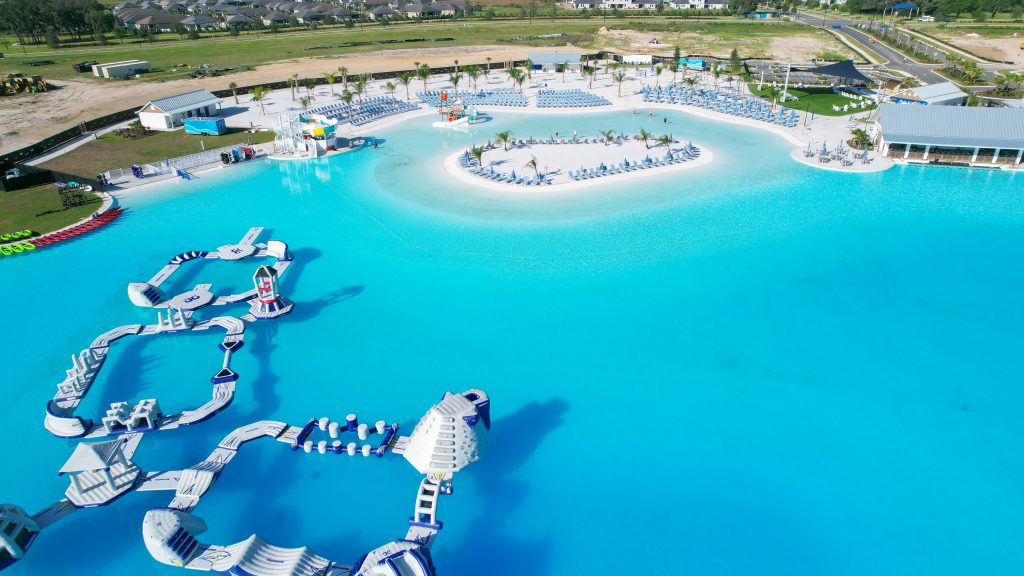 The Lagoon Lifestyle means resort-style amenities
From Gasparilla Island, a sandy oasis in the Lagoon waters, to comfortable beach seating and floating "Aquabanas", Mirada has all the amenities of a resort.
Poolside private cabanas and loungers make a great relaxation spot, while the splash pad and water slide are also fun for the entire family. The grills, tennis courts, parks and pavilions nearby in Mirada offer a great way for you and members of the community to connect on land.
No matter how you choose to spend the day, don't underestimate the power of relaxation that a floating tube on the open water brings. With so many options, each visit to the Lagoon is sure to be a unique experience.
Cabana Cove is the best VIP experience
Cabana Cove is an amenity that deserves its own space on this list. For visitors age 21 and up, this is the place to be. The Cabana Cove VIP area has exclusive amenities like a private swim-up bar with hand-crafted cocktails and unique rentals including the "Aquabanas". These floating cabanas offer an exclusive on-the-water experience for Lagoon guests, giving you great views and privacy that the onshore cabanas can't compete with. The bar is even open late for after-hours fun!
To access the VIP area, you will need to purchase a wristband but be careful – you may find that you never want to spend your days at the Lagoon any other way.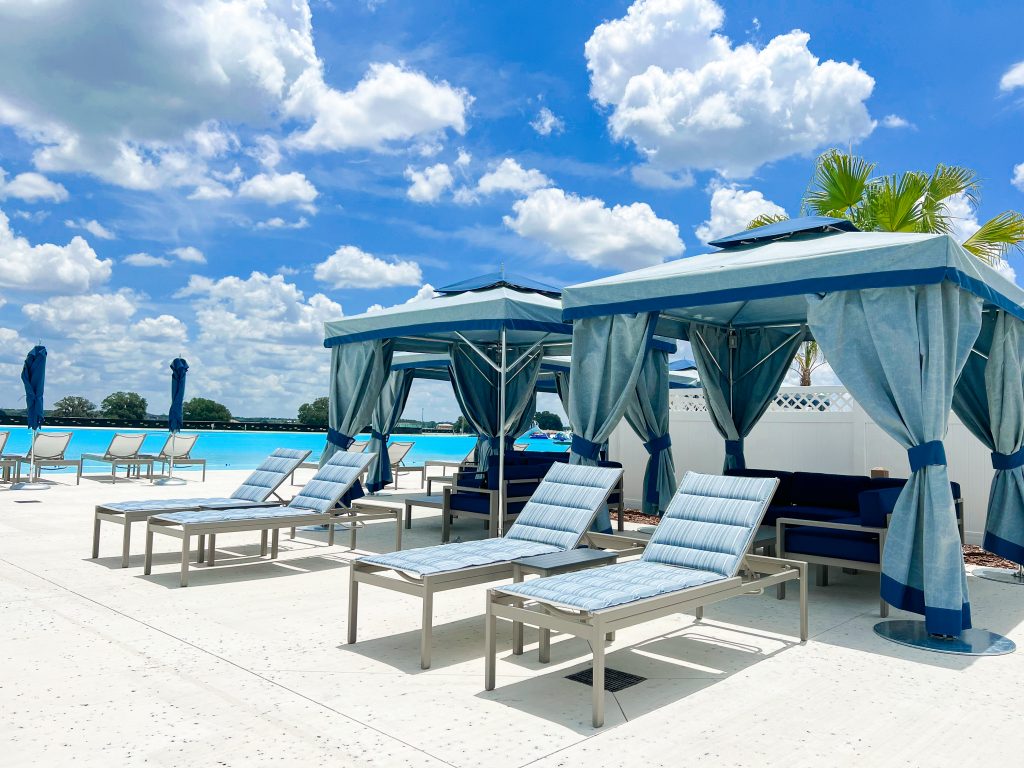 Community events take place on the Lagoon
There's no shortage of activities to do on dry land, either. Mirada Lagoon is jam-packed with live local music acts, karaoke and trivia nights, corn hole tournaments, fitness classes, children's activities, and more for residents and visitors.
Every Friday they celebrate "TGIF" with live music to kick off the weekend. Then there's the Kid Zone on Saturday and Sunday with activities designed with families in mind. The Event Highlight page has a full event calendar with all the details of these can't-miss happenings, and most evening events have various food and drink specials available.
Not sure where to start? A community favorite is musical bingo, a twist on the traditional game with contemporary music favorites!
Fun for the whole family
Community events and activities aren't just for the adults. Mirada Lagoon offers hours of endless fun for kids, too. On any day, kids can explore the splash pad or race their friends on the floating obstacle course.
But if you're looking for something more structured, every Saturday and Sunday the Lagoon transforms the Hub into the "Kid Zone". July's Kid Zones are jungle- and nature-themed with fun games, crafts and an interactive DJ. The Kid Zone is open every weekend from 11 a.m. to 2 p.m.
Lagoon events help bring the Lagoon Lifestyle to every visitor and are open to residents and the public. The Lagoon is the heartbeat of the community where families and neighbors gather, and new friendships are made every day.
A forever staycation for residents of this master-planned community
What's more exciting than visiting the world's largest Lagoon? Living near it! With the Lagoon, events and so many other amenities, the Lagoon Lifestyle is an all encompassing and entertaining life.
While the Lagoon may be the biggest feature in the Mirada master-planned community and central to the Lagoon Lifestyle, it's just one example of the many great amenities residents have access to. With dog parks, playgrounds, pocket parks, and natural green space there are plenty of ways for residents to be active and outdoors. And miles of multi-modal and hiking trails connect residents to each of these amenities and their neighbors.
Fun fact: The nature trails in Mirada are known for great bird watching.
Location, location, location
Mirada brings luxury resort style living to Pasco County with homes designed by top builders with a wide range of sizes and features. This master-planned community is conveniently located right near I-75 and in a booming area. With the Shops at Wiregrass in Wesley Chapel and small local shops and restaurants in downtown Dade City nearby, you can shop, eat and play all over town.
Ready to discover life in this paradise? Purchase tickets online at MetroLagoons.com. If you're interested in moving to one of Metro's master-planned communities and ready to live the LagoonLife every day, visit MiradaStayCay.com to learn more about living at Mirada.