Pasco County Shines in Post-Pandemic Housing Market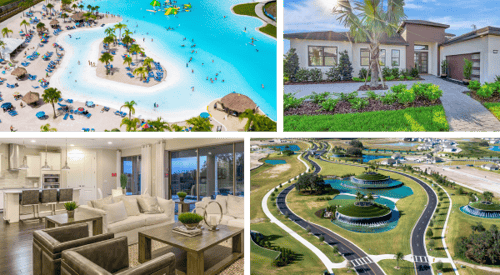 Pasco County was recently featured in The Wall Street Journal as one of the most desirable places to relocate to during the changing landscape of the pandemic. The county drew a net 57% increase in households in 2020, adding more than 7,000 new households last year. MetroPlaces played a significant role in Pasco County's housing boom, with three popular communities in the area: Mirada, Epperson, and Union Park. What is it that makes these communities and surrounding Pasco County so attractive in a wildly competitive housing market?
A steady stream of new residents is arriving from all over the country, including New York, Chicago, and elsewhere in Florida. MetroPlaces communities have experienced a significant influx of new out-of-state residents in the last year, with little sign of slowing in 2021. While reasons for relocating vary, recurring themes include a need for more space and the newest technological connectivity to manage work and school from home, room for multigenerational living, and a desire for better weather and more outdoor space.
MetroPlaces has played a significant role in Pasco County's recent growth. One major draw are home prices. At communities like Epperson, you can find brand new four-bedroom homes in the $300s, far more affordable than similar homes in the urban core of nearby Tampa or St. Pete. MetroPlaces communities are also designed with residents' wellbeing in mind, offering diverse amenities like nature trails, expansive parks, high-speed ULTRAFi technology in every home, and in Epperson (and soon Mirada) our popular Crystal Lagoons. Factor in proximity to highly ranked schools, retail and dining, and world-class medical facilities, and it's easy to understand why Pasco County is such an appealing place to call home.
The future looks fantastic for anyone moving to Pasco County, and the area's attractiveness will only increase with the completion of MetroPlaces' Angeline community. Angeline and its adjacent Moffitt Cancer research campus will be transformative for the county, providing a new major employment center for residents and laying the groundwork for a real, walkable downtown for the area.
The word is out that Pasco County offers residents a superior quality of life, and MetroPlaces continues to lead the way in developing the gold standard for master planned communities in Pasco County and beyond.