Residents Enjoy Exclusive Lagoon Benefits
Brightwater
Epperson
Lagoon
Lagoon Life
Mirada
New Homes
Southshore Bay
Uncategorized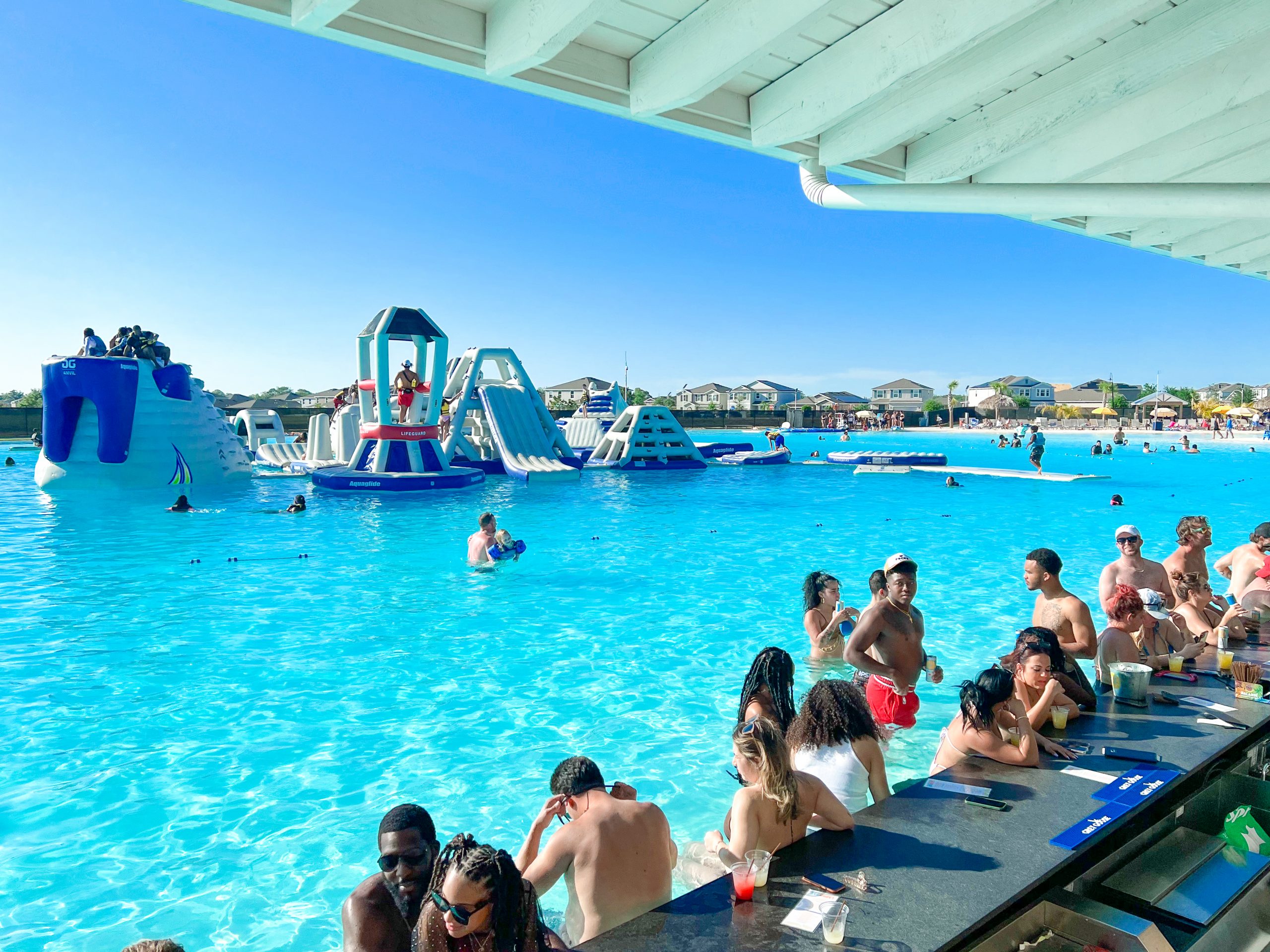 A MetroPlaces Lagoon community pulls the joys of beachfront living into your neighborhood. Just down the street, you'll be able to enjoy the Lagoon's crystal-clear water and white beaches, along with all the activities by the shore—from yoga classes to movie nights to resident happy hours.
MetroLagoons tickets can be purchased for one-day fun, but residents at Epperson, Southshore Bay and Mirada enjoy some exclusive benefits every day!  At each Lagoon, for the price of an in-season individual day pass, residents enjoy monthly access for the whole family.
Each Lagoon offers features that everyone in the family can enjoy, no matter how much or little you want to do. Some examples:
Complimentary chaise loungers at Resident Beach areas: All residents enjoy complimentary chaise lounges on a first come, first serve basis. In addition, residents can use their rental discount to rent other beach items like cabanas and umbrellas.
Kayaks and paddleboards: Do you love water sports but not the prep? At the Lagoons you can rent kayaks and paddleboards any day, getting all the fun with none of the hassle.
Water obstacle course: Looking for a challenge? This offshore obstacle course tests your fitness and is one of the most engaging features we offer.
Full access to the Lagoons every day: In addition to full family access, you can enjoy discounted tickets to all of Tampa Bay's Lagoon locations as well as complimentary and discounted tickets for guests annually.
Year-round resident-only entertainment ensures that residents are never short on things to do:
Movies on the turf: On Wednesday, a family-friendly movie is shown by the Lagoon. Whether you're looking to rewatch your favorite movie or just connect with your family and neighbors, these nights are a consistent hit.
Trivia night: Every Thursday, your Lagoon hosts Trivia Night. Compete against other MetroPlaces families or create a community team and test your trivia knowledge.
Live music: Relaxing on the Lagoon shore under an umbrella listening to live music is a great way enjoy Tampa Bay's amazing climate! The Lagoon offers live entertainment on select days throughout the week.
Lagoons are at the heart of a healthy lifestyle, and various classes and clubs are also available.
Yoga* – Local studios join MetroLagoons to offer residents complimentary on-the-shore yoga classes. A great setting is provided – all you need to bring is a mat and a water bottle.
Zumba – With upbeat dancing music, this one-hour class combines body weight, muscle conditioning, cardio, and plyometric training.
Cornhole tournaments – Who doesn't a love a friendly game of cornhole?  Or show off your skills at a MetroLagoons tournament!
MetroLagoons are a unique staple in MetroPlaces master-planned communities around the Tampa Bay, with locations at Epperson in Wesley Chapel and Southshore Bay in Wimauma. And soon, the largest Lagoon in the country will open at Mirada in San Antonio.
With so many options, the Lagoon lifestyle is a great option for people looking for a new home in Pasco County or Hillsborough County.
Are you ready for a new home at a MetroPlaces Lagoon community? Visit www.MetroPlaces.com/live-here to learn more about current Resident Lagoon Member pricing, or call MetroLagoons at 813-444-5221 for more information.
*Community-specific offering – each Lagoon community offers unique events. Make sure to check out metrolagoons.com for a full breakdown of each location and pricing.