Metro Development Group has five entries in list of Tampa Bay's 20 fastest-growing new-home communities.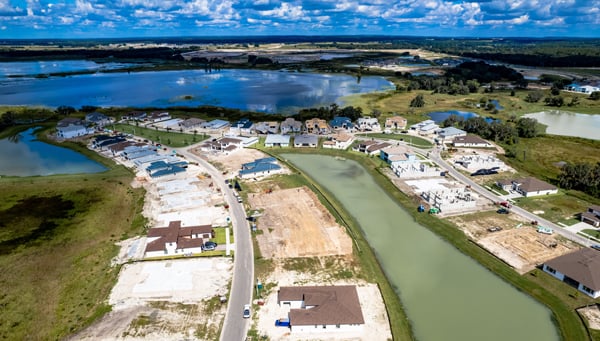 Tampa, Fla. (Nov. 2021) – Five Metro Development Group communities – Epperson, Mirada, Southshore Bay, Union Park and Cypress Creek – are among the 20 fastest-growing new-home communities in the Tampa Bay area, based on new data from Zonda, formerly Metrostudy.
Also, the Epperson community in Wesley Chapel ranked No. 1 on the list, ranked by new home starts in the September 2020-September 2021 timeframe.
"Homebuyer interest in our communities continues to be extremely strong, thanks to the convenient locations, the quality of our builder team, and the extensive and unique amenities we offer," said Vaike O'Grady, Vice President of Marketing & Communications of Metro Development Group. "Our communities are simply a great value for homebuyers."
Four of Metro Development Group's master-planned communities in the top 20 are located in the Pasco County area of Wesley Chapel: Epperson, Mirada, Union Park and Cypress Creek.
• Epperson, with 705 new home starts and 493 closings in the 12-month period, has the nation's first Metro Lagoon. It also ranked No. 21 in Zonda's national ranking for new home starts in the 2020-21 timeframe.
• Mirada, ranked No. 8 on the Tampa Bay area list, had 333 new home starts and 308 closings. The community includes Medley, an active adult community, and plans for a 15-acre Metro Lagoon, which will be the largest in the nation.
• Union Park, ranked No. 14, had 258 new home starts and 206 closings in the community, which is almost completely built out.
• Cypress Creek, ranked No. 15, had 222 new home starts and 265 closings in the nearly-complete community.
The fifth Metro community on the list, Southshore Bay, was ranked No. 11 on the area list. Located in the fast-growing Wimauma area of south Hillsborough County, Southshore Bay had 301 new home starts and 237 closings. The community offers a wide array of amenities, including a Metro Lagoon.
The Tampa market reported a 38.9% year-over-year increase in new housing activity for the 12 months ending September 30, Zonda reported.
"Demand in the suburban areas of Pasco and Hillsborough counties is coming from homebuyers moving to Florida from other areas of the country, from renters deciding to buy, and from people who simply want a new home," said Tony Polito, Zonda's regional director for Tampa and Central Florida. "We see this strong demand continuing into 2022."
About Metro Development Group
A Tampa-based company founded in 2003, Metro Development Group is the largest privately held residential developer in Florida.  The company's communities, under the MetroPlaces brand, are known for innovative technologies and high-impact amenities like their extremely popular Metro Lagoons. For more information, visit MetroDevelopmentGroup.com.